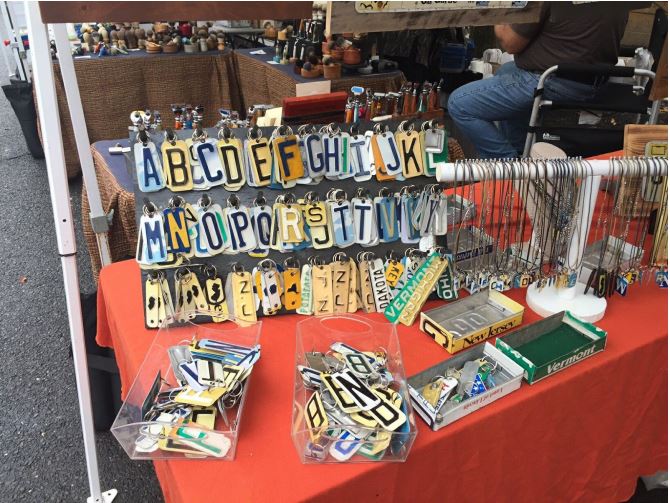 Hello all, I'm State Plate Signs. Actually, I'm Michael Bender, but it seems that more people know me by my license plate craft business than my name. Everyone says "I've seen your stuff", so it must be true. I am a relative newby in the craft world, starting in 2015 making clocks from vinyl records and bike cranks. License plate signs seemed to be what people liked more, so I concentrated on this. I've since expanded to other crafts made from license plates, such as key chains, stars, boxes, birdhouses, necklaces, and cutouts of the shape of the great state of New Jersey. I currently sell my crafts in eight stores in three states, and can be found most weekends working craft fairs or similar events. The question I'm asked most, is where do I get my license plates from. That's easy. All I need is a parking lot, screwdriver, and darkness. Just kidding. Maybe.
All of my products are made from used license plates. The biggest draw to my table is my extensive collection of unique key chains. There is something unique about each and every one. The license plate signs are the most customizable item I sell. Each sign is as unique as the buyer. I can make any sign with any words you'd like, so you're in control of the end product.
Marketspace Vendors is making it possible for a whole other audience to experience the uniqueness of State Plate Signs. I'm hoping to be a regular vendor with Marketspace Vendor Events, which will help grow my audience even farther than I've been able to do on my own.
*Editor's note: Michael is becoming a regular on our Crafts and Drafts lineup. We first met him at our River Horse Brewing Company event in Ewing, New Jersey on October 29, 2017 and will be welcoming him back on November 12, 2017 at Lone Eagle Brewing in Flemington, New Jersey. He is a pleasure to work with and his work is even more impressive in person!