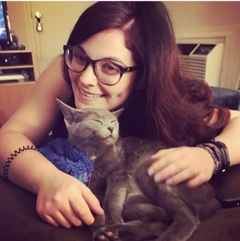 Hi! I'm Rachel; a Jersey girl living in Pennsylvania, often found surrounded by cats, crafting aromatherapy jewelry – hence CraftyCatPA! Everyone sometimes needs an escape from the hustle and bustle… to slow down and just create on your own terms. CraftyCatPA came into being as a creative outlet, a hobby for myself, separate from all the things on the 'to do list'. I enjoy creating unique aromatherapy jewelry designs and sharing the benefits of essential oils; can't wait to meet you!
I create an eclectic variety of beaded bracelets, anklets, rings and necklaces. Most of my designs feature lava beads to pair with essential oils for aromatherapy on the go. I'm a Young Living distributor and always have my personal collection of Young Living essential oils with me to share. The CraftyCatPA collection is forever changing and evolving – most styles are one of a kind. I love to make custom, made-to-order pieces with feedback and involvement from the customer.
I'm working on some standard styles for the CraftyCatPA Etsy shop; but I'm most excited to get out to Marketspace Vendor Events where customer can see, smell, touch and try on the CraftyCatPA collection in person as it's meant to be experienced! In addition to aromatherapy jewelry, I'm branching into essential oil roll-ons and sugar scrubs. I'm so looking forward to Merry Marketspace, my first event with Marketspace Vendor Events, and the fun opportunities to follow!